Introducing Nebo AI beta – A revolutionary note-taking experience
September 15, 2023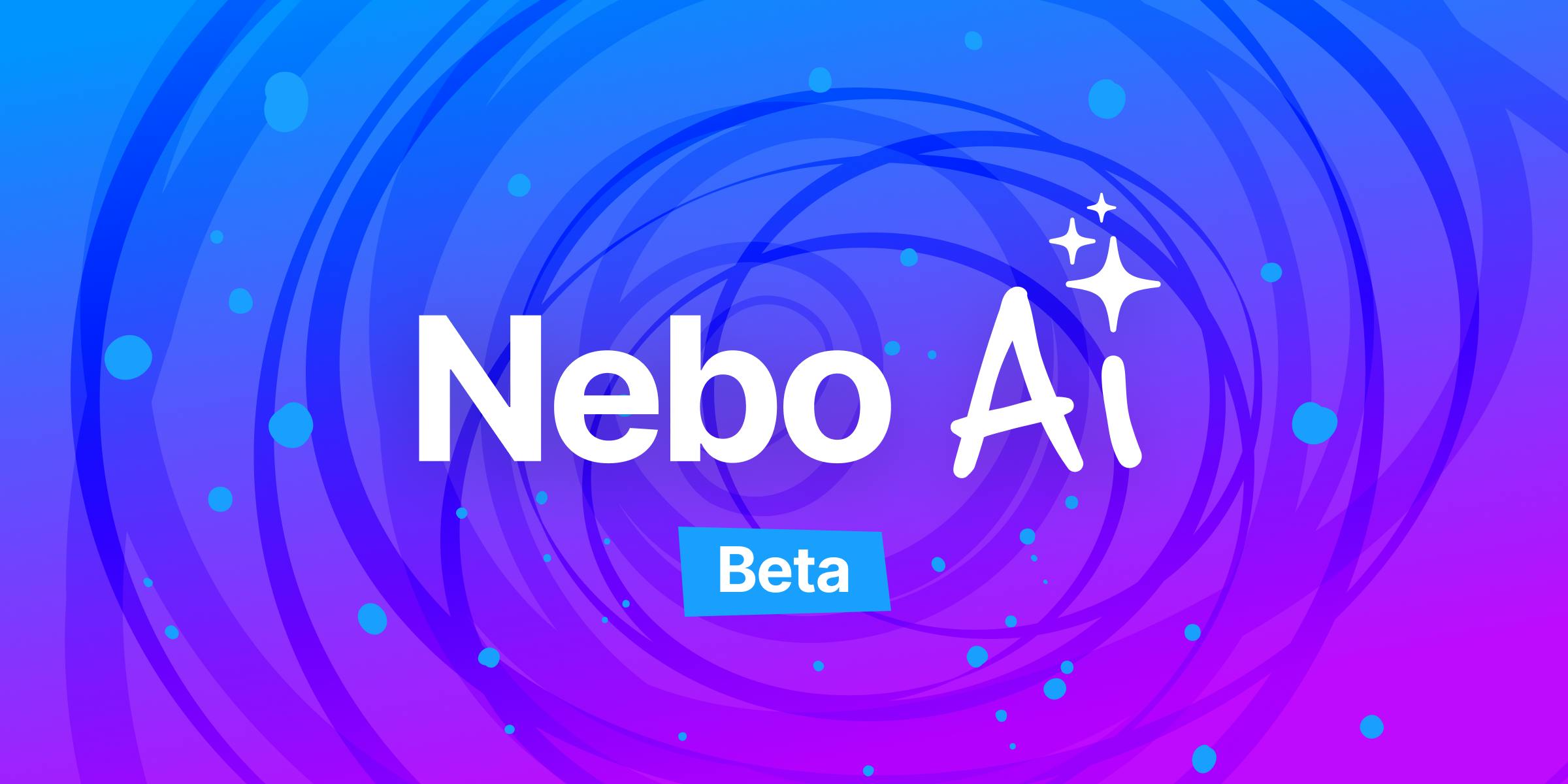 We're thrilled to announce the Nebo AI beta release on iPad! Our commitment to technological innovation has always set us apart, and this beta rollout is no exception. Grounded in our deep expertise in AI and UX, we've seamlessly blended generative AI features into our world-leading AI handwriting technology, aiming to revolutionize your note-taking process. Let's dive in!
Driving innovation with user feedback
The user experience has always been central to the vision and innovation that drives Nebo. From the very beginning, Nebo has strived not only to deliver technological advances, but to ensure these advances solve real-world problems. This commitment has been especially crucial as we've begun to integrate generative AI into our digital note-taking platform.
However, this move is not about simply riding the AI wave. Rather, it's a strategic response to the genuine needs and expectations of our users, as revealed through constant feedback and surveys. These insights have laid the groundwork for purposeful, functional generative AI that significantly enhances the user experience. They have helped us create AI features that don't just exist for the sake of it, but instead actively solve problems that our users encounter.
What exactly is Nebo AI?
Think of Nebo AI as your dedicated assistant, empowering you to take more effective notes, study for exams and expand your knowledge. It's a set of new features that helps you make the most of your notes, save time and get quick assistance when needed.
Our primary focus in Nebo is to deliver a pencil-first experience. We know that when users enjoy the natural and intuitive feel of writing with a pencil, it deeply enhances their overall note-taking experience. With this in mind, we envisioned a generative AI experience that can be enjoyed effortlessly with a pen, and that can integrate seamlessly into the user's note-taking workflow.
For this first beta release, Nebo AI offers features designed to cater to three primary use-cases. More new AI features will be introduced in the coming months, fueled by user feedback on this initial feature set.
So what do the first Nebo AI features look like?
Explain
'Explain' helps clarify complex concepts or topics in your notes, providing a clear, easy-to-understand explanation without the hassle of switching between apps. Whether you're studying for an exam, researching a new subject, or simply curious about a particular topic, 'Explain' will become your go-to tool for quick and reliable explanations and definitions.
Summarize
'Summarize' is designed to extract key information from your pages or selected content. It shortens long paragraphs or sections of text into concise summaries, saving you valuable time. 'Summarize' streamlines your note-taking process, allowing you to focus on the crux of the information and memorize only what truly matters.
Chat
'Chat' is your direct line to Nebo AI, primed to spark interactive Q&A sessions using either your pen or the keyboard. Kickstart a chat to explore further into 'Explain' or 'Summarize' outcomes, or simply start a fresh conversation with any question you might have on your mind. No topic is off-limits!
What's next
In the near future, we're set to unveil even more AI-powered features, still designed with students in mind, that will transform the way you interact with Nebo. Some are nearing launch, others are still under development, but we can't resist sharing a glimpse of what's in the works…
Quiz – Nebo AI will generate questions directly from your handwritten notes, providing you with ways to test your knowledge, identify gaps in your understanding and focus your efforts where they matter most.
Ink generation – Nebo AI will be able to transform all kinds of text into your own handwriting – regardless of whether it was typed, converted or AI-generated to begin with. All of it will remain fully editable too, as if you wrote it yourself!
Free beta version
Best of all, Nebo AI beta is available for free – no subscription required. It will transition into a paid option once it goes out of beta and the final version is released.
However, Nebo AI will remain optional, ensuring that you have the flexibility and freedom to choose what suits you best. We certainly don't want to force users to pay for a feature they don't want!
For now, the Nebo AI beta is only available in English for iPad users. The aim is to gather early user feedback to further refine and enhance the experience. Your feedback is crucial to us, as it enables continual improvements and ensures that we're delivering exactly what you need.
FAQ
What do I need to test Nebo AI?
To test Nebo AI beta, you'll need a free MyScript account, an iPad with an internet connection and your Nebo UI set to English.
How much does Nebo AI cost?
The Nebo AI beta is available for free. However, once the beta period ends, it will transition into an optional, paid add-on for Nebo.
I'm using Nebo's free version, can I test Nebo AI?
Yes, whether you're using the free or full version of Nebo, you can try out Nebo AI beta.
Is my data secure with Nebo AI?
Your data privacy is paramount to us. Our handwriting recognition AI works offline, keeping your data on your device. However, when you use Nebo AI's generative features, the context you provide is shared with OpenAI to generate accurate and meaningful outputs.
Embarking on a journey together
Nebo AI's beta launch marks a significant milestone in our journey, harnessing the power of generative AI to enhance your note-taking experience. 
As we continue to innovate, we're eager for you to test this new set of features: your input plays a crucial role in shaping Nebo's evolution. We believe that our commitment to your productivity, creativity, and learning journey, combined with your valuable feedback, will make Nebo AI an indispensable tool in the evolving world of education. Let's push the boundaries of what's possible together!