Nebo arrives on iPhone
May 4, 2021

What if you could check, search and share your Nebo notes anytime, anywhere?
Nebo is available on a range of different platforms. You can use the app on iPad and Chromebook as well as compatible Android and Windows devices. But there's never been a Nebo app for iPhone — until now.
You see, our latest release is a very special double-header.
Nebo 3.2
First, there's Nebo 3.2, which brings multi-page export and checkboxes to Nebo.
You can now export multiple pages at once, combining them into one file and customizing the file name. This makes it easier than ever to extract the content you need from a notebook, ready to share.
The new checkbox feature lets you use your pen to create and tick checklists in a regular page. Tapping a checkbox will toggle between its checked and unchecked states.
Nebo 3.2 also marks the launch of our latest beta feature for users of Nebo on iPad. Sign up to the Insider program via Nebo's Settings and you can enable the scratch-erase gesture in freeform pages and sections. (If you're already signed up, the gesture will be auto-enabled, but you can disable it at any time.)
We're excited to know more about how people use scratch-erase in freeform. If you decide to give it a try, please keep an eye out for our short in-app survey. We'd love to get your feedback.
Nebo on iPhone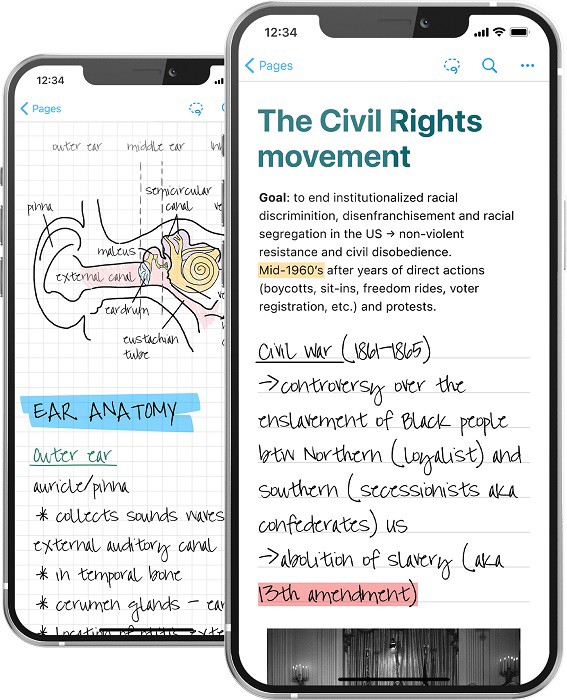 The biggest news right now, though, is our new app for iPhone: Nebo Viewer.
Nebo Viewer is a handy companion app that gives you read-only access to your Nebo notes. It lets you browse, search and share notes directly from your iPhone, meaning your entire library can accompany you everywhere.
Of course, we understand that many users want a full version of Nebo on their iPhone — and we're working on it! But we're committed to offering the best possible experience, and that takes time.
Until then, Nebo Viewer will make Nebo an even more convenient, productive and powerful answer to your note-taking needs. The new app is free to download from the App Store on iPhone now, and requires access both to Nebo's cloud sync feature and a free MyScript account.
That's all for this release. As always, let us know your thoughts — we're listening.
Enjoy the update!
The Nebo team at MyScript
Connect With Us
👉 nebo.app