Nebo in 2020: The Year in Review
February 1, 2021

We made a lot of progress despite a difficult year…
2020 was tough for everyone, not least because the pandemic prevented us from spending meaningful time working and being together, in person. But at MyScript we decided to combat separation with motivation.
Unified by a common purpose, we collaborated remotely, working harder than ever to make 2020 a banner year for our app. Our aim? To evolve Nebo from a pioneering write-to-text tool to a powerful and versatile note-taking solution.
This, then, is the story of our year.
January
Nebo's core strength at the start of 2020 lay in its handwriting recognition engine. The accuracy of this engine across 66 languages allowed us to offer users the most reliable write-to-text conversion on the market. It also enabled us to treat handwriting as the equal of typed text: responsive and endlessly editable via intuitive pen gestures. A great starting point — but what next?
February
February brought our first release of the year: Nebo 2.5. We added the lasso tool and introduced the personal dictionary, letting users 'train' Nebo to recognize custom words.
In a sign of things to come, we also launched the draft section, the forerunner of today's freeform section. Designed for situations where rapid data capture and creative freedom were more important than structure and polish, draft sections proved a hit with users.
At the same time, we evolved our business model for users on iPad. Up to this point, Nebo had been a paid app. But as of version 2.5, users on iPad could download and enjoy a limited version of Nebo for free. The power of Nebo's Interactive Ink (iink) was now accessible to more people than ever.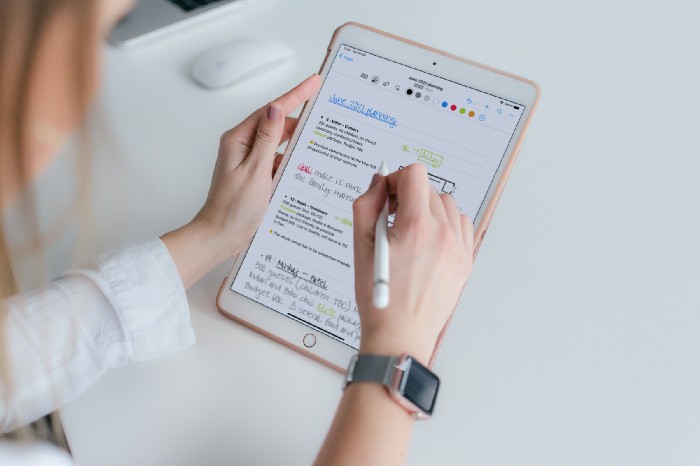 June
The start of summer marked the launch of Nebo 2.6. This update sought to optimize productivity through a series of targeted enhancements.
We introduced new gestures for adding or adjusting space within notes. We enabled drag-and-drop repositioning of text blocks. We made it possible to customize font sizes and line heights. And we added the option for users to quickly and conveniently back up their entire Nebo library.
Best of all, we launched smart indentation and automatic detection of multi-level lists. Now you could add bulleted or numbered lists with your pen and Nebo would recognize and format them for you.
September
With three months of the year remaining, we started to shift our focus. Nebo's regular page now offered a richer, more refined experience than ever. We had significantly reduced the gap between handwritten notes and professional digital documents. But to lead in a crowded marketplace, we needed to go further. We believed that Nebo could and should answer a far wider range of note-taking needs. So we embarked on our boldest series of updates yet.
The first was September's Nebo 2.7, which introduced the freeform page.
A boundless, zoomable canvas ideal for freeform note-taking of any kind, the freeform page opened new horizons for Nebo.
The page gives users complete freedom over the positioning of their notes. They can write and draw anywhere, and even reuse content in the regular page (where text and diagrams remain editable and convertible). From brainstorming to project mapping to random doodling, the freeform page made Nebo a go-to app for a whole new set of note-taking scenarios. And we weren't finished yet…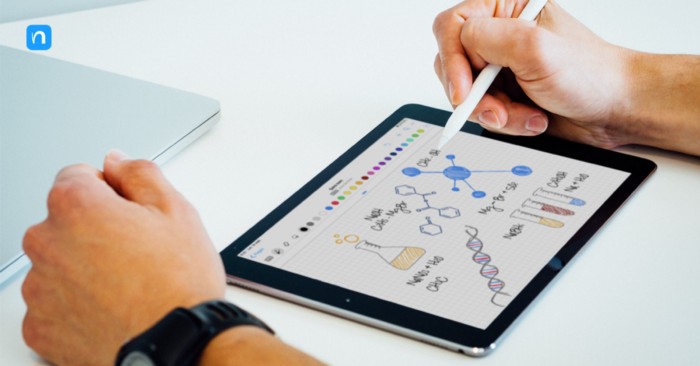 November
November ushered in a new era for Nebo once again, as we added support for passive pens.
While an active pen will always provide the superlative note-taking experience, we wanted to ensure no one was blocked from enjoying Nebo by their choice of writing instrument. As of Nebo 2.8, you could use the app with any pen.
December
With the year drawing to a close, we launched Nebo 3.0: another landmark and our latest update. Version 3.0 introduces PDF import and annotation, allowing users to import multi-page PDFs to any Nebo notebook.
Once a PDF is imported, users can mark it up with our new PDF highlighter or annotate it with their pen. All annotations remain movable, editable and searchable — and as ever, users can copy content between Nebo pages and into other apps.
Now your note-taking doesn't have to start with a blank page — and Nebo can legitimately claim to answer almost any note-taking need.
As a final touch, we also further evolved our business model for users on iPad. As of Nebo 3.0, users no longer need to pay for all Nebo's premium features at once. Instead, they can unlock only the tools they need via a range of Productivity Packs available at the in-app Nebo Store. For anyone wanting the complete experience, the Full Pack offers all Nebo's productivity-boosting features at a discounted price.
Looking ahead
So that was our 2020! A year of extensive research, complex challenges and relentless hard work. In retrospect, we think it was worth it.
Next up: 2021. And to start on a positive note, here's wishing you and your loved ones a very happy, healthy new year!
The Nebo team at MyScript
Connect With Us
👉 nebo.app